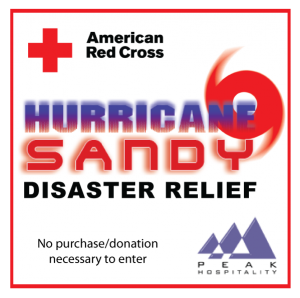 Hotels raise money for Hurricane Sandy victims.
Twelve hotels managed under Peak Hospitality will rally together to help raise funds for the American Red Cross in an effort to help Hurricane Sandy victims. These twelve hotels spanning 3 states, (Texas, New Mexico and Arizona) will ask guests, vendors, associates and the general public to donate $5 or more to help fellow Americans through this tough time. Additionally during the fundraising time frame of November and December of this year, each hotel will hold a drawing for a 2-nights stay at any one of the twelve participating hotels.
Simply register for your free nights stay here or at any of Peak Hospitality's twelve (12) locations in New Mexico, Arizona and Texas. A donation of $5.00 is recommended but not required. This is in conjunction with the American Red Cross who has already assigned more than 5,000 workers to assist in the affected areas hit by Hurricane Sandy.
"We have been moved by the videos and photographs of devastation that the eastern seaboard, it's cities and communities have endured this past week, and want to do something meaningful" said Theo Barela, President of Peak Hospitality. "Our Managers were talking about ways to help and thought this is a way for us to get many people involved".
"While there is little most of us can physically do to help, we know that the American Red Cross is already hard at work but in need of financial assistance to keep the effort going."
All proceeds will benefit the American Red Cross's Hurricane Sandy cleanup effort. Participants will be entered to win a two night stay at any Peak Hotel. Anyone can enter for the drawings that will be held once per month at the end of November and December. No donation or purchase is necessary, but a $5 donation is requested.