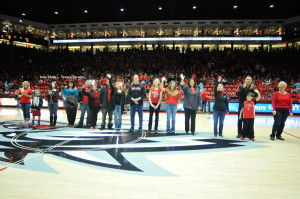 As a proud partner of the Lobo Club, the Western Star Inn was invited to be recognized at the latest Lobo basketball game against Nevada. You know the game, the one where the Lobo's beat Nevada 75 to 62. We are proud to be a Lobo club member and excited to offer the great rate of $44 to all Lobo club members.
In this photo we have the Western Star Inn's sales director Terese Peralta  and our very own awesome Office Manager, Amy Shaw. Super fun!
The Lobo Club is The Gateway to Giving for University of New Mexico Athletics, that raises funds to help UNM student-athletes succeed on and off the playing surface. Since 1932, Lobo Club members have made donations that provide scholarships, facilities, and all other support necessary for Lobo student-athletes to excel academically and compete for championships. to learn more about the Lobo club and membership please visit www.unmloboclub.org.